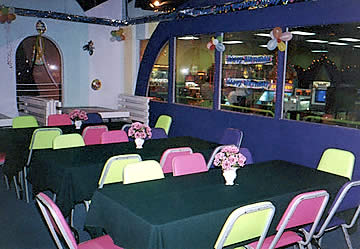 Party Room
Birthday Parties
We do a great birthday party at Galactica! You can't go wrong when you mix kids, games, rides, fun food & more with our special Birthday Party Package!
Our standard Birthday Party Package includes:
Exclusive use of decorated party room
Personal hostess to serve guests in party room

Decorated tables with plates, cups, napkins

Music for entertainment in party room

Displayed Birthday greetings with child's name

Game tokens for use with games

Hot popcorn served to each guest

Cold soft drinks in a variety of flavours

Colourful ribbon cheese sandwiches

Delicious ice-cream in a choice of 8 great flavours

Sweets and party favours

Exclusive train ride for birthday child and guests in our Space Train
We can also provide:
Birthday Cakes
Burgers, hot dogs

Clowns and Costumed characters to entertain birthday child and guests

Prizes and party favours

Fun filled loot bags

Balloons and party hats
And what's more...
We do all the work!!!
including free clean-up services
Birthday Party Packages start at $25.00 per person
For more information, visit the Prizes Counter at Galactica or phone us at 657-5148 or contact us via email: tt.oc.acitcalag@2ofni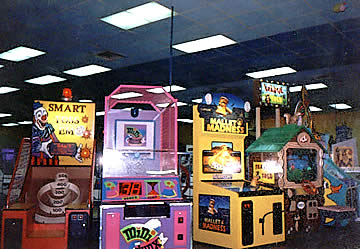 Redemption Games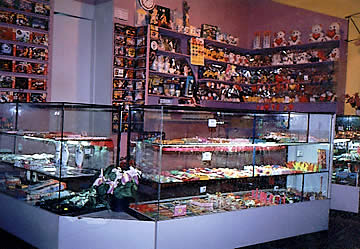 Prizes Counter

Redemption Games

Test your abilities on the many different redemption games that dispense tickets according to how well you played. When you're done you can exchange tickets for prizes at our Prizes counter - ensuring that you'll leave with a prize! Our Prizes counter is stocked full of stuffed toys, jewelry, electronics, games & more to give you greater selection.



Gun Gallery

Electronic Shooting Gallery

Think you're a hot shot? Now you can prove it on our Shooting Gallery, where you can shoot at interactive targets that react when shot. It's all perfectly safe, even for children, since the guns are all-electronic and don't fire missiles.
Got a sweet tooth? You'll like our Candy Cranes, in which you try to grab your choice of assorted candy. The best part is everyone's a winner, because the game's not over until you win!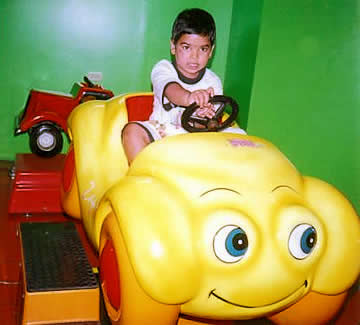 Kiddie Rides
We haven't forgotten the little ones either! They can take a ride on one of our many bright colourful kiddie rides, each with smooth lifelike motion & digital music/sound effects. No driver's license required either!
Kids love our Capsule machines - insert a token, get a mystery prize capsule. Part of the fun is not knowing which prize you'll end up with! We have several machines for greater selection!



Air Hockey

Air Hockey

An all-time favourite, Air Hockey challenges you and a friend to a competitive game of pure skill. The first person to score 7 goals wins. Just remember to have a creative excuse if you lose!

Got a Playstation, Nintendo 64, Super Nintendo or Sega Genesis? Then you'll be pleased to know that we rent all the most popular titles for these home console systems. And unlike other Rental Clubs, we don't charge a membership fee!
Free Membership signup info:
In order to give free membership, we require two IDs:
One picture ID (Driver's license, ID card, etc)
One recent utility bill for address verification
Members must be over 18 years to age to join, but can authorise younger persons to borrow.
Call or come in for further details!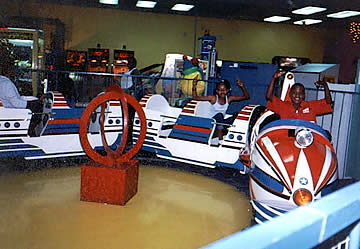 Space Train

Space Train

Both kids and adults alike can ride our train. A favourite with families and groups, everyone loves to ride the train! You never know what you'll see and hear in the scary train tunnel!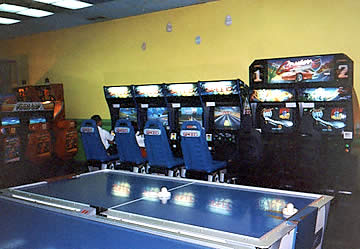 Driving Games

Driving Games

Is there anyone who doesn't like to play driving games? We have the most fun driving games around, such as Crusin USA, Final Lap & California Speed. Up to four people can race simultaneously, ensuring high speed fun for all!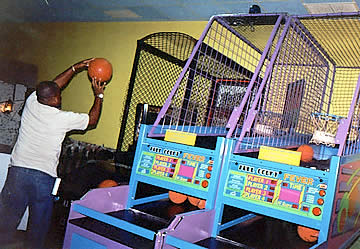 Basketball Games

Basketball Games

Our Basketball games are popular with just about everybody. We've got Hoop Shot, which uses a standard regulation sized ball & hoop. We've got Full Court Fever, which features a moving basket & links together so two people can play against each other at the same time. And for the younger kids we've got Mini Dunxx, which features a smaller kid-sized ball & design just for them!
Galactica, Gulf City Mall | Galactica, Trincity Mall | Galaxy Games Video Arcades | FunStation
Copyright © 2002-2009 Galactica. E-mail: tt.oc.acitcalag@2ofni